India accounts for 2% of China's exports, boycotting will hurt Indians more: Chinese Embassy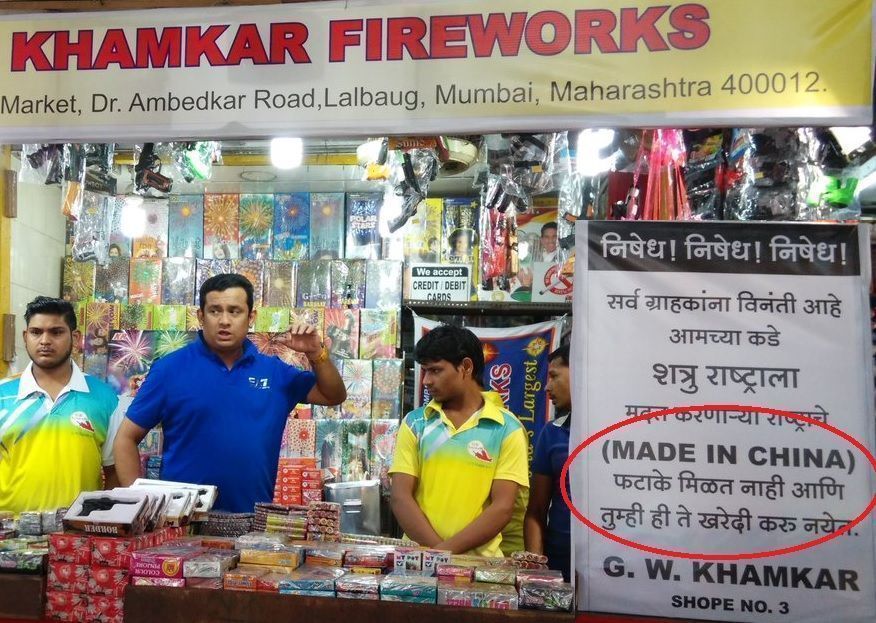 The Chinese embassy on Thursday took serious note of the anti-China sentiment prevalent among the nation's populace and responded by saying that attempts to boycott their products will affect Indian traders and consumers more than their Chinese counterparts.
"In the long run, boycott will not only hurt Chinese goods sale, but also cause negative impact on the consumers in India," a Chinese embassy statement said.
"Without proper substitutes, the biggest losers of the boycott of Chinese goods will be Indian traders and consumers," Counsellor Xie Liyan said in the statement posted on the Chinese embassy website.
Citing media reports, which highlighted a 20 percent drop in sale of Chinese goods among traders of Delhi's biggest wholesale market (Sadar Bazaar), the statement said, "The boycott effect will not be limited to Diwali-related products, but will extend to other Chinese products that are not related to the festival."
"Chinese products not only lowered India's inflation rate, but also fulfilled Indian ordinary people's, especially the low-income people's, aspirations and greatly improved their life quality."
The statement noted that China-India trade cooperation has deepened over the years. "Bilateral trade has grown 24 times in 15 years, from $2.9 billion in 2000 to $71.6 billion in 2015," it said.
China has become India's largest trading partner, source of imports and fourth largest export market, it said.
The statement further highlighted that China is now the world's largest trading nation in goods, with exports amounting to USD 2276.5 billion in 2015.
"The exports to India accounted for only 2 per cent of China's total exports and India's boycott of Chinese goods will not have much impact on China's exports.
"China is more concerned that the boycott will negatively affect Chinese enterprises to invest in India and the bilateral cooperation, which both Chinese and Indian people are not willing to see."
Social media has been abuzz with messages urging Indians to boycott 'Made in China' goods amid their growing ties with Pakistan and decision to oppose United Nations ban on Jaish-e-Mohammed chief Masood Azhar.
The Central government, however, has not formally banned or placed any restrictions on Chinese imports.
India's Commerce Minister Nirmala Sitharaman had also addressed the call for ban on Chinese products earlier this month, claiming that a blanket ban is not a feasible option.
"Just because we may not like certain things about a country is not reason enough to block imports from that country. We could impose anti-dumping duties, but there are established ways to go about it and dumping has to be proved," she had told reporters while responding to a query on curbs on imports from China.
"Curbs can only be placed if there are quality issues or if the imports are subsidised or dumped. Anti-dumping duties are levied on particular items, on certain tariff lines…they cannot be levied across the board," she added.
In her bilateral talks with Chinese Vice Minister of Commerce and Finance Wang Shouwen in Delhi earlier this month, Sitharaman said she raised concerns about India's growing trade deficit with China.
In 2015-16 alone, India's exports to China accounted for $9 billion, whereas the imports were $61.7 billion, leaving a trade deficit of $52.7 billion.
"Several issues have remained unresolved since I assumed charge in June 2014. I raised the issue of the difficulties faced by the Indian IT companies in China with project approvals with the Chinese minister.
"Our pharma companies, for instance, have been recognised by the United States Food and Drug Administration (USFDA) and the European Union (EU). Why is it then that the permission from China is taking so long," Sitharaman said, adding that the talks had been positive.
"The Chinese minister assured that he will come back to us on the matter, expeditiously. My impression is that they will come back to us sooner. The trade imbalance issue will addressed," she said.
An Indian commerce ministry release said Wang assured that China would act on the concerns expressed by India regarding market access for Indian goods, and said that recently China has quickened the pace of granting clearances to Indian pharmaceutical companies.
Meanwhile, Confederation of All India Traders (CAIT), apex body of traders, recently said the sale of Chinese products may decline by 30 percent this Diwali.
Interestingly, possession and sale of fireworks of foreign origin in India is illegal and punishable under the law. Despite that, reports claim that out of India's Rs 4,000 crore firecracker market, Chinese products account for nearly Rs 1,500 crore.