Jio users will never pay for making calls anywhere in India: RIL Chairman Mukesh Ambani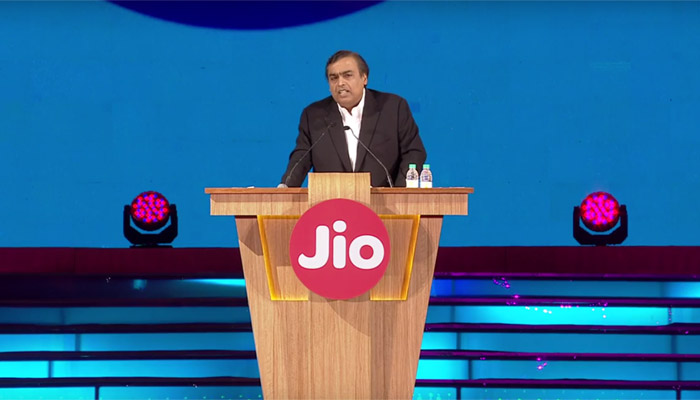 Taking the current tariff war and competition in India's telecom space to a new level, Reliance Industries Chairman Mukesh Ambani on Thursday announced that domestic voice calls on the Jio network will be free forever, and unveiled a four-month introductory offer for everyone of free voice and data services beginning on September 5.
"The era of paying for voice calls is ending," Ambani told the 39th Annual General Meeting of the company, post its listing. "No Jio customer will ever have to pay for voice calls again." he added, devoting around an hour of his 90 minute speech to Jio.
In effect, the announcements on Thursday point to a commercial launch from January 1 next year even though no specific mention was made in this regard. This was also keenly awaited since Reliance Industries has invested close to $21 billion on Jio — its largest ever capital expenditure on a single project.
The Chairman said the data plans will also reflect the affordability for customers, with an effective base rate of 5 paise per MB or Rs 50 per GB. "Jio will have a base rate which is more than 90 per cent discount over the industry," he said.
He said based on the usage, the tariff could go to as low as Rs 25 per GB. He said the free domestic voice calls will also come with free roaming while international ones too will be affordable. "We Indians have come to appreciate and applaud Gandhigiri. Now, we can all do 'Data-giri', which is an opportunity for every Indian to do unlimited good things with unlimited data."
The announcements came against the backdrop of a series of discounts and freebies offered by existing players like Airtel, Vodafone and Idea during the past month, to ensure customers stay with them, even after the commercial launch of Jio.
During the speech, Mukesh Ambani also appealed to incumbent operators not to block Jio calls and ensure adequate points of interconnect. "In the last week alone, Jio customers suffered over five crore call failures to other networks because of insufficient interconnect capacity provided by incumbents."
As for the stock markets, the shares of Reliance Industries fluctuated in a wide range during the course of the speech — from a high of Rs 1,072.55 to a low of Rs 1,045.60. Soon after it was quoting at Rs 1,047.50, down Rs 10.50, or 0.99 per cent, over the previous close.
In contrast, Bharti Airtel shares fell 6.21 per cent at Rs 311.25, while Idea Cellular was quoting at Rs 85.90, down Rs 7.60 or 8.13 per cent.
Other highlights of Mukesh Ambani's speech:
# A target of 100 million customers in shortest possible time
# Coverage of Jio to extend to 90 per cent of population by March 2017
# Data usage of 250 core GB a month
# Students will be able to get 25 per cent more data on Jio's main tariffs
# The Jio bouquet of apps free will end next calendar year
# A range of 4G enabled smart devices
# Jio digital Fund of Rs 5,000 crore to incubate start-ups
With inputs from IANS