Sonu Nigam tweets about being woken up by azaan, stirs controversy by terming it 'gundagardi'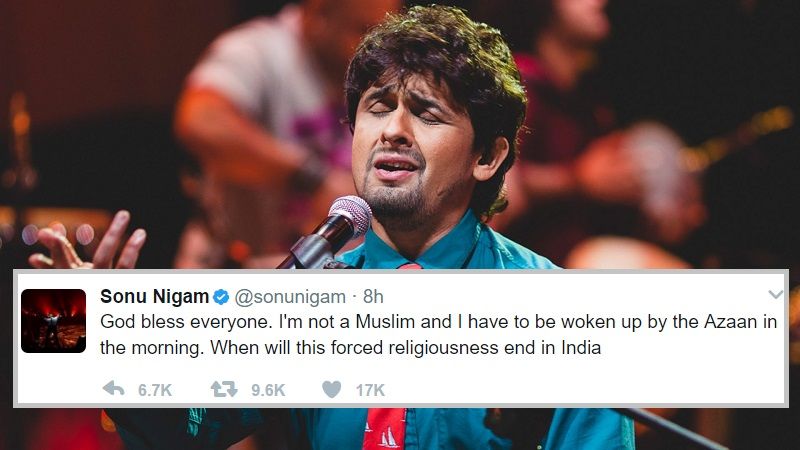 Bollywood singer Sonu Nigam kicked up a storm when he complained about being woken up by azaan, despite not being a muslim, in a series of tweets on Monday morning.
Nigam, one of the leading playback singers in the country, took to Twitter earlier today and lashed out against the use of loudspeakers by mosques for their early morning prayers.
The singer, who seemed to have been woken up by the sound of azaan, termed the practice of making others listen to the Muslim community's prayers 'forced religiousness'.
"God bless everyone. I'm not a Muslim and I have to be woken up by the Azaan in the morning. When will this forced religiousness end in India," the singer said in a series of tweets.
"And by the way Mohammed did not have electricity when he made Islam.. Why do I have to have this cacophony after Edison?" he added.
The 'halka halka' singer even went on to draw parallels with other religions. "I don't believe in any temple or gurudwara using electricity To wake up people who don't follow the religion . Why then..? Honest? True?"
The 43-year-old concluded by stating, "Gundagardi hai bus…"
Within a matter of minutes, the singer's tweets went viral. While many came out in Nigam's support, others critisized him for targeting a single religion for the use of loudspeakers.
Incidentally, Twitterati were also quick to point out how Nigam started his career by singing 'jagraatas', which also entailed the use of loudspeakers at night.
Some even pulled him up for his lack of 'tolerance' in a multi-religious society like ours.
Even though the Bombay High Court has banned the use of loudspeakers for religious activities, most of the use it on a regular basis or during festivals.