Government set to scrap 'service charge' on restaurant bills, patrons can tip voluntarily instead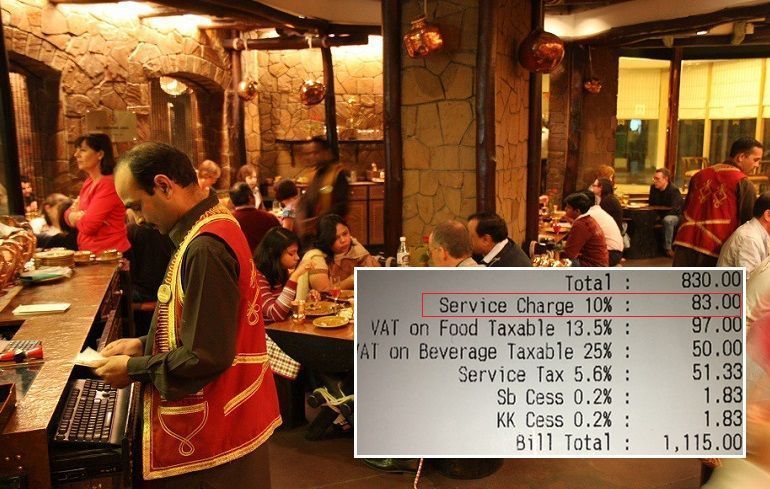 Levying service charge on restaurant bills can soon become a thing of the past as the government plans to issue an advisory to states asking them to crack down on eateries that are imposing the charge on food and drink bills.
At present, eateries across the country, including Mumbai, levy anywhere between 5 to 20 percent on the total bill amount.
"Service charge does not exist. It is being wrongly charged. We have prepared an advisory on this issue. We have sent it to the PMO for approval," Food and Consumer Affairs Minister Ram Vilas Paswan told reporters today.
A senior ministry official said the advisory, once approved by the Prime Minister's Office (PMO), will be issued to all states and union territories. It will also be useful for Voluntary Consumer Organisations (VCOs) fighting for consumer right, he added.
"No customer should be forced to pay service charge. If customers want they can pay a tip to waiters or give their consent to levy the charge in the bill," the official said while explaining the nature of proposed advisory.
The levying of service charge without seeking customer consent will be considered as unfair trade practice under the Consumer Protection Act, he added.
The minister said consumers should be informed about service charge in the menu card itself, arguing that there was no need to even explicitly levy it as the cost of each item was understandably derived after factoring in all other expenses.
On several occasions during the past few months, Paswan even spoke against unfair imposition of service charge on food bills and had even sought explanation from hotels and restaurants bodies.
In January, the Department of Consumer Affairs stated that service charge on food bills is not compulsory and a customer can choose to have it waived if not satisfied with experience.
States were told to ensure that hotels/restaurants disseminate this information through displays in their premises.
"A number of complaints from consumers have been received that hotels and restaurants are following the practice of charging service charge in the range of 5-20 per cent, in lieu of tips, which a consumer is forced to pay irrespective of the kind of service provided to him," it had said.
The ambiguity over a 'fair' service charge led to several conflicts between patrons and restaurant staff, following which many experts advised against scrapping the charge altogether.
Highlighting provisions under the Consumer Protection Act, 1986, the ministry had said a consumer can make a complaint to the appropriate consumer forum against unfair trade practices.
"Our department's view is that imposing service charge is an unfair trade practice and consumers need not pay," Paswan had said in January.
The minister had said there was no provision under the existing law to take action against hotels/restaurants.
However, he said that in future such cases would be addressed effectively by the Central Consumer Protection Authority (CCPA) proposed in the new Consumer Protection Bill.
With agency inputs