"TOI is the Shakti Kapoor of Indian Papers"; leading daily gets slammed for Royal Blunder!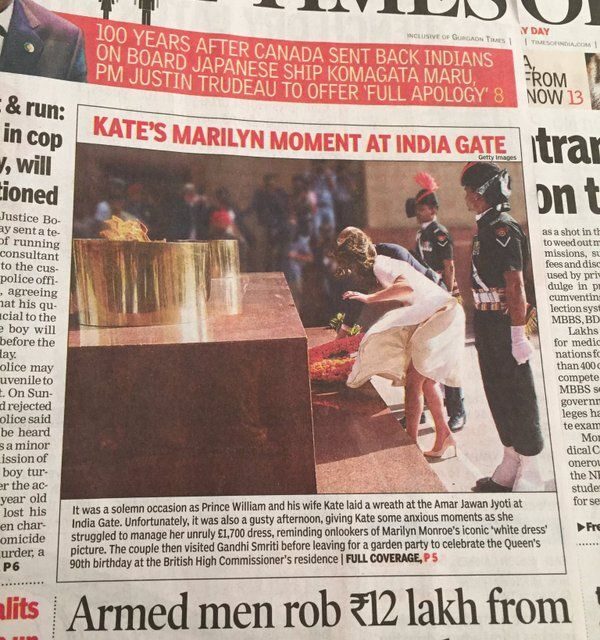 While the Duke and Duchess of Cambridge were in the nation's capital yesterday, they decided to visit India Gate to pay their respect to the soldiers who bravely fought and laid down their lives for the country's honour.
An army of media was present at Amar Jawan Jyoti to cover the moment of peace when Prince William and Kate Middleton paid homage to deceased soldiers. However, there was a photographer waiting for the wind to touch Kate's skirt so that he could capture an "Oops Moment" at the memorial.
And ironically, the country's No. 1 English newspaper acknowledged the shutterbug by publishing his photograph on its front page with the headline: Kate's Marilyn Moment At India Gate.
No sooner the paper reached people in the morning, they started damning Times Of India for being perverse and using Kate's upskirt picture to sell the newspaper. The same was witnessed on Twitter too.
Here's a compilation of people's reaction to TOI's Royal Blunder-
Times of India – top 4 uses.
1. Toilet paper
2. Raddi
3. Packing Food
4. Cleaning Windshield pic.twitter.com/PtqhsvJ7aE

— Roý (@MixedRaita) April 12, 2016
If Times of India is truly reflecting the times of India, then we are living in a tragic time.

— Ankur Tewari (@ankurtewari) April 12, 2016
Your first mistake is to refer to The Times of India as a newspaper. It stopped being one decades ago.

— lindsay pereira (@lindsaypereira) April 12, 2016
I will not be shocked if Times Of India prints "Rain during Mayawati rally, she had a Raveena Tandon moment".

— Pakchikpak Raja Babu (@HaramiParindey) April 12, 2016
The Times of India should be renamed to the Items of India…. #garbagenewspaper pic.twitter.com/TxhNbJY40P

— Sudhanshu (@Sudshek) April 12, 2016
Congrats Times of India! From the Grand Dame of Bori Bunder, you've become a perv with camera seeking upskirt shots pic.twitter.com/FjvL25QnCF

— IndiaExplained (@IndiaExplained) April 12, 2016
Times of India should change its name to Nudes of World.

— HHBBC (@BabaBakChod) April 12, 2016
Times of India has a 14 year old puberty struck kid's mind … pic.twitter.com/OGPhQa212d

— Sand-d Singh (@Sand_In_Deed) April 12, 2016
Shame on @timesofindia for publishing Kate's India Gate on front pg.Will Aranb discuss the shameless act of his fellow journalist@TimesNow

— Uday Bhan MS (@uday_bhan) April 12, 2016
Historians reveal that Islam came out with the concept of Burqa just after Times of India started its publication

— Ra_Bies (@Ra_Bies) April 12, 2016
Looks like 'The Times of India' is on its way to become sleazy entertainment paper.Oh wait, its already thr @eonline pic.twitter.com/vjJD6IYpy3

— Mrs. Tony Stark 😀 (@BrushUrTeeth_03) April 12, 2016
Move over British Tabloid Press ..
Times of India is the cheapest and Meanest newspaper of the whole world pic.twitter.com/GJ9wupcB2u

— Shuvankar Mukherjee (@shuvankr) April 12, 2016
If it had the opportunity, Times of India wudn't have hesitated from publishing an upskirt pic of Mother Teresa. pic.twitter.com/lNq6wOkvpz

— Gabbbar (@GabbbarSingh) April 12, 2016
Give Times of India anything and it will derive voyeuristic pleasure from it ? pic.twitter.com/j6HGBOBSYw

— Monica (@TrulyMonica) April 12, 2016
Adult Magazines are not allowed in our Hostel, so i subscribed to Times Of India newspaper.

— Silly Point (@Sarcaism_) April 12, 2016
Seems Times of India Editor and Photographers are planning to rename TOI as "The Tharki of India"

— Boldmonk (@Ghanta_Claus) April 12, 2016
You know the level of blunder committed by Times Of India when even Barkha Dutt gets surprised

— Equality 4 Indians (@DEreSERVEIndia) April 12, 2016
INTERVIEWER: Tell me your work experience in journalism

GUY: I googled "Kate Middleton hot"

INTERVIEWER: Hired! Welcome to Times of India!

— amrtsh (@floydimus) April 12, 2016
Times of India is the Shakti Kapoor of Indian Newspapers. And this is the lead story of today's paper. pic.twitter.com/Xv5jkLIJwu

— Social Samosa (@SocialSamosaa) April 12, 2016