Fire breaks out at MTNL building on SV Road, Bandra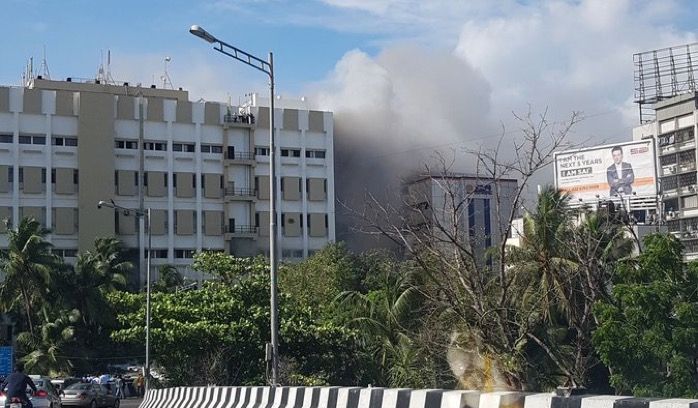 A fire broke out at Mahanagar Telephone Nigam Limited (MTNL) building in Bandra on Monday afternoon.
According to preliminary information, the fire broke out around 3:15 pm on the fourth floor of the Bandra Telephone Exchange Building located near Bandra Masjid on S.V Road.
The cause of fire is not yet known.
After Mumbai Fire Brigade was alerted about the mishap, four fire engines were pressed into service. The fire, initially categorised as Level-II, has now escalated to Level-III. More fire engines have been dispatched to the site.
Police officials are also on the spot and work on evacuating the building is underway. Some people are believed to have been trapped in the building, although a confirmation on the same is awaited.
No casualties have been reported as of now. Further details awaited.
---
Updates
4:15 pm
* Over 100 people are feared trapped on the terrace of the ground plus nine-storey structure.
* The fire is confined to the third and fourth floor of the building.
* Due to the intensity of the blaze, the fire brigade has declared it a Level-IV fire and pressed over 20 fire tenders for the firefighting efforts.
* A massive cloud of smoke has engulfed the area, spreading as far as Bandra station.
* Over 100 people feared trapped on the terrace
* Fire is confined to the 3rd & 4th fourth floor
* Fire classified as Level-IV fire and over 20 fire tenders pressed into service
* Massive smoke cloud has engulfed the area

Read: https://t.co/9ft8eeLZOt pic.twitter.com/lkdR3O5XvI

— LocalPressCo Mumbai (@LocalPressCo) July 22, 2019
5:30 pm
* Firefighting underway as of 5:30 pm.
* Fire brigade teams using ladders to rescue stranded people from the terrace. Over 20 rescued safely till now.
* Anjuman-e-Islam Girls High School, located behind the MTNL building, evacuated due to smoke.
* No casualties reported so far.
7:30 pm
* Fire has been contained and all 84 people trapped in the building have been safely rescued.
* No civilian injuries reported, but one fireman hospitalised for suffocation.
* Aiding fire brigade in their firefighting efforts was the newly introduced remote-controlled robot, 'RoboFire'
* The exact cause of fire is still unknown.
* Fire contained and all 84 people trapped in the building safely rescued.

* No civilian injuries reported, but one fireman hospitalised for suffocation.

* Newly introduced remote-controlled robot, RoboFire, assisted fire brigade.https://t.co/9ft8eeLZOt pic.twitter.com/FglgJ1QXkU

— LocalPressCo Mumbai (@LocalPressCo) July 22, 2019
---
Note: This report will be updated with additional information as it becomes available