Mumbai's maximum temperature soars to 37.6 degrees, minimum falls to 20.2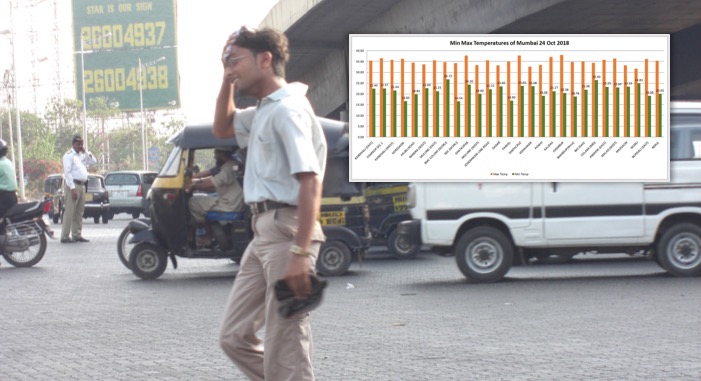 While daytime temperature continues to hover around the 37 degrees Celsius mark, there is some respite in store for Mumbaikars as the minimum temperature fell to 20.2 degrees on Wednesday.
On both Tuesday and Wednesday, IMD's Santacruz observatory recorded a maximum temperature of 37.6 degrees Celsius, while the Colaba observatory recorded a maximum of 35 degrees Celsius.
The soaring maximum temperatures, however, were in stark contrast to their minimum counterpart. The minimum temperature fell for the first time on Tuesday, when it reached 21.4 degrees Celsius.
The temperature fell further today, with Santacruz observatory recording a minimum temperature of 20.2 degrees Celsius during the early morning reading.
According to IMD data, the minimum temperature fell below 17 degrees in certain pockets today. Areas like Goregaon, Worli (NSCI) and Panvel were among those that saw sub-17 degree temperatures.
On the other hand, areas like Ghatkopar, Santacruz, and Chembur saw maximum temperatures of 37 degrees Celsius.
With maximum temperatures crossing 37 degrees on five separate occasions, October this year has been consistently hotter than any other October since 2008.