Video: Fire breaks out at showroom in Laxmi Industrial Estate, Andheri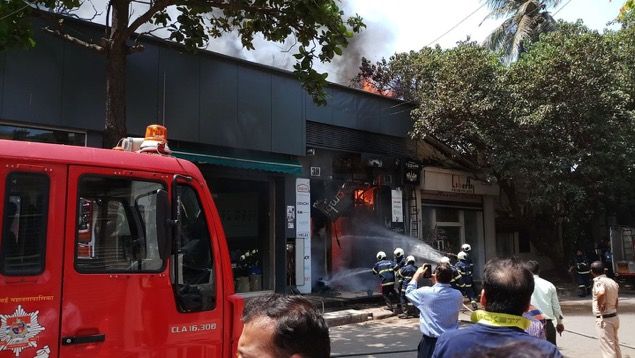 A fire broke out in a showroom at Laxmi Industrial Estate in Mumbai's Andheri area on Monday morning.
Details about the fire:
Location: According to preliminary information, the fire broke out at Ambience Lights & Sounds showroom located at Laxmi Industrial Estate, Off Link Road near Lokhandwala in Andheri West. The company is into manufacturing of decorative lights.
Time: The mishap took place around 11 am today, and the fire department was alerted immediately after.
Severity: Fire officials reached the spot with three fire engines and two jumbo tankers. Local police and an ambulance arrived at the scene shortly after.
Cause of fire: The fire is suspected to have started due to a short circuit. However, a confirmation from the fire department is awaited.
Casualties & damage: While no casualties were reported in the mishap, a major portion of the showroom has been gutted in the fire. As a result, major loss of property is estimated.
Current status: Firefighting is still underway as of publishing this report. Some traffic congestion has also been reported outside the entrance of Laxmi Industrial Estate. However, traffic cops are helping direct the traffic. Further details are awaited.
Update:
(1 pm) The blaze was brought under control after an hour of firefighting. No casualties were reported.
Video:
The incident comes hours after at least 15 oil godowns were gutted in a massive blaze at Ganesh Compound in Bhiwandi's Gundavali area. The blaze was brought under control after six hours of firefighting and did not result in any casualties.
Note: The report has been updated with additional information since it was first published.