15 oil godowns gutted in massive blaze at Ganesh Compound, Bhiwandi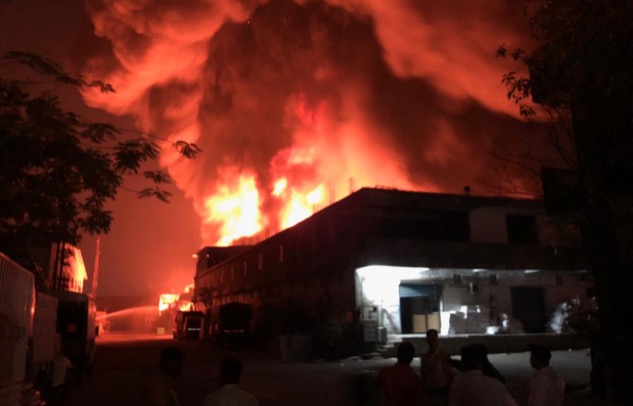 At least 15 godowns were gutted in a massive fire that broke out at an oil compound in Bhiwandi's Gundavali area during the wee hours of Monday.
Fortunately, no casualty or injury was reported in the mishap.
The fire broke out around 12.15 am in an oil godown at Ganesh Compound and spread rapidly to the other warehouses in the vicinity in Gundavali village (in Bhiwandi, Thane District), an official at the fire control room in Bhiwandi taluka told PTI.
Several oil drums and rubber tyres of various companies were stored in the godowns, which further aggravated the blaze. In minutes, almost all buildings in the vicinity were engulfed by the fire.
Late night visuals from the spot showed a thick cloud of smoke emanating from the source of the blaze. The entire area was subsequently covered in a blanket of smoke.
Latest #visuals: Fire broke out at an oil godown at Ganesh Compound in Bhiwandi's Gundavali, six fire tenders present on the spot; fire officer says 'fire will be completely doused only by afternoon or evening, not before that' #Maharashtra pic.twitter.com/eiGE7MAgG3

— ANI (@ANI) April 1, 2018
Six fire engines from Bhiwandi, Thane, Kalyan and Navi Mumbai managed to bring the flames under control after hectic efforts for about six hours, the official said, adding that the cooling operation was underway.
The operations are expected to culminate by late afternoon or evening today. The cause of the fire is yet to be ascertained as of publishing this report. The area, meanwhile, has been cordoned off.
While no casualties were reported in the blaze, loss of property worth crores is estimated.
Earlier in the day, another fire had erupted at a godown in Purna's Chaudhary Compound in Bhiwandi. The fire was later doused with the help of three fire tenders.