Fire breaks out in Monorail near Chembur: Services affected, no casualties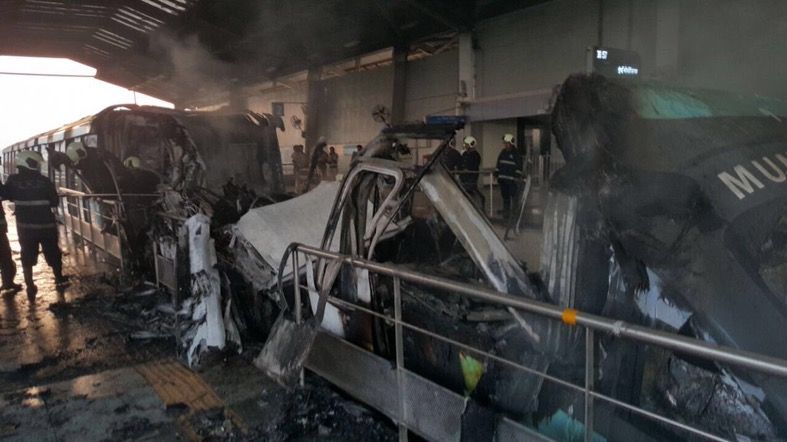 Mumbai Monorail services came to a grinding halt on Thursday morning after a fire broke out in one of the rear bogies near Chembur.
The incident took place around 5.30 am at Mysore Colony station at Mahul Road, Trombay on a regular local service to Wadala station.
The fire department was alerted about the Level I blaze, following which three fire engines were rushed to the spot. The blaze was brought under control after 45 minutes of fire fighting.
Although two bogies were completed gutted in the blaze, no casualties were reported as the rake was empty when the fire broke out.
The fire was confined to the electric wirings, cab roof, cab window, door, seat, flooring, tyres, electric light panel, platform railing and the station roof.
The exact cause of the fire is being probed although officials suspect a short-circuit might have caused it.
Meanwhile, all the Monorail services have since been disrupted and are likely to resume in the next 2-3 hours.
Prior to today's incident, the Monorail services were affected in July when two trains heading in opposite directions ended up travelling on the same track near Chembur. Fortunately, the loco-pilots stopped the rakes in time to avoid a head on collision.
The first phase of the Mumbai Monorail, covering a distance of 8.9 km between Chembur to Wadala, was opened for public in 2014.
Update: The Metropolitan Commissioner has ordered an enquiry by an independent committee to determine the cause of fire and for a full check up of all the Monorail trains. Meanwhile, Monorail services are still suspended.
This report has been covered in a shortened or snippet format to ensure the most crucial information is published in the shortest possible time. The report may be expanded to a full length article if the story develops further or more information becomes available.