Mishap at Kings Circle FOB, Sion flyover closure disrupt peak hour traffic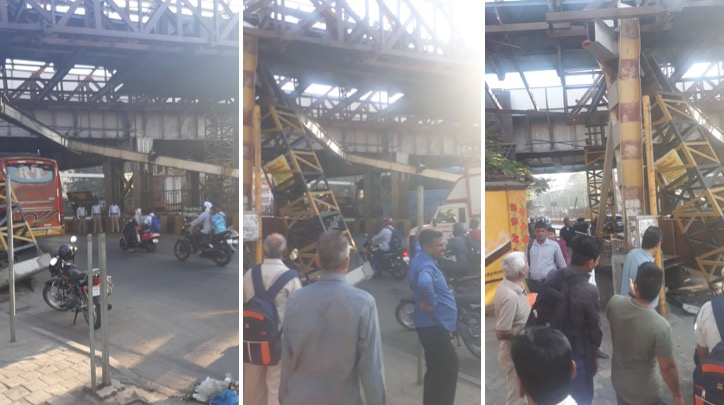 Motorists travelling between Sion and Dadar had to face major traffic snarls during peak hours on Friday morning after the height barrier installed before Kings Circle foot-over-bridge (FOB) got dislodged.
According to eye-witnesses, the incident took place around 6 am today, when a vehicle accidentally rammed into the height-barrier on the south-bound lane (towards Sion).
The impact caused the barrier, and one side of the pillar supporting the structure, to get dislocated. While the barrier continued to hang precariously, the pillar fell on the side of the road.
Although no untoward instances were reported in the incident, traffic on both sides was affected during peak hours. Fortunately, traffic police was quick to reach the spot and guide the flow of vehicles.
Repair work was yet to begin as of noon today, although officials said arrangements were being made to ensure a smooth flow of traffic by evening.
In the past, there have been several instances where tall vehicles have rammed into the railway bridge at Kings Circle station. To avoid damaging bridge, Central Railway installed height barriers in the elevated middle section in 2018.
The FOB, incidentally, had been shut for pedestrians since the last few months and re-opened just earlier this month.
The traffic situation in the area, however, worsened as it coincided with the closure of Sion flyover. The bridge was closed around 5 am today for the second of eight blocks scheduled by Maharashtra State Road Development Corporation (MSRDC) for repair work.
The work started last week, almost three years after a structural audit conducted by IIT-Bombay concluded that the flyover was in need of urgent repairs.
The flyover is scheduled to remain shut for four days from February 27 to March 2, during which work on replacing the expansion joins will be undertaken.