MMRCL can carry out Metro III work in SoBo during night: Bombay HC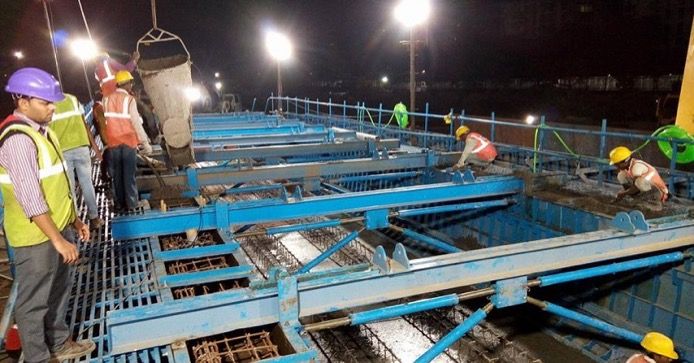 The Bombay High Court on Friday permitted the Mumbai Metro Rail Corporation Ltd (MMRCL) to carry out construction and other ancillary work for the Metro III project at Mumbai's Cuffe Parade during night.
The 33-km long Colaba-Bandra-SEEPZ Metro line III will connect the Cuffe Parade business district in South Mumbai to SEEPZ in the North-Central suburb.
A division bench of Acting Chief Justice N H Patil and Justice G S Kulkarni, however, asked the MMRCL and the contractor Larsen & Toubro to implement recommendations made by the National Environmental Engineering Research Institute (NEERI) to ensure minimal noise pollution.
The court was hearing an application filed by the MMRCL, seeking modification of an earlier order of the HC, which prohibited them from carrying out Metro work at Cuffe Parade during night time.
The MMRCL had said in its application that it had to carry out important work of tunnel boring, which will have to be done continuously.
"The soil and muck that will be dug out can be transported only during the night time so that there is no impact on vehicular traffic," MMRCL's counsel Ashutosh Kumbhakoni had argued.
In its order today, the HC said the MMRCL can carry out work from 10 pm to 6 am.
"The MMRCL and the contractor shall duly implement the recommendations submitted by NEERI in its report. Apart from this, the MMRCL shall also immediately set up a grievance redressal mechanism to allow people to complain if there is any violation of noise pollution rules," the court said.
The high court had in December last restricted the MMRCL from carrying out any construction work at night as it was creating noise pollution and causing hassle to people residing in the area.
The Maharashtra Pollution Control Board (MPCB) had last month appointed NEERI to carry out noise monitoring at the sites, where the Metro construction work is on.
As per the study report, noise monitoring study carried out at the Metro construction sites revealed that the noise levels were exceeding the prescribed standard of noise levels for both day and night.
According to the report, ambient noise levels at the Metro construction sites for day time ranged from 68.5 to 91.9 decibels and during night time it was in the range of 60.3 to 83.4 decibels.
The report said while this construction noise may not pose a serious health risk to the people, it could affect their quality of life by interrupting sleep and resulting in higher blood pressure.
The report recommended erection of noise barriers of sufficient height at the construction sites to contain and reduce the impact of noise and ensure that machine activities that generate a lot of noise should be used during the day.