Mulund family collected garbage for 8 years, required 8 trucks to clear half of it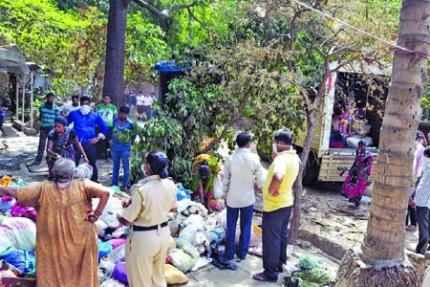 Local Press Co 5-point Snippet
1. On Monday, police officials along with 40 municipal employees arrived at flat number 3 of Guide Society, a two-storey residential building in Mulund, where all the four rooms had garbage spilling out of it.
2. The occupants, Savlas, had allegedly piled up the garbage inside the house for 8 years as they didn't want the builder to demolish the building. After repeated complaints to BMC about the foul smell emanating from the house didn't help, the residents approached a BJP MLA who escalated the matter.
3. After no one answered the door, cops and BMC officials broke into the house and found an old woman, believed to be 86-year-old, lying unconscious on top of plastic water bottles in the bathroom. The elderly woman who was rescued, identified as Maniben Savla, has lost her ability to see and hear.
4. The officials started by removing wrappers, cartons, old clothes, food packets, newspapers etc. It took them seven hours and eight trucks to remove the garbage from just two rooms. The other two were not touched.
5. The residents of the building didn't even know about the mother, they only knew about the two brothers and two sisters. The brothers wouldn't stay at the house and the two sisters would sleep outside the house at night. Mulund police have not registered any case against the family till now as the women are all unwell.