Pillion riders without helmets to be fined and lectured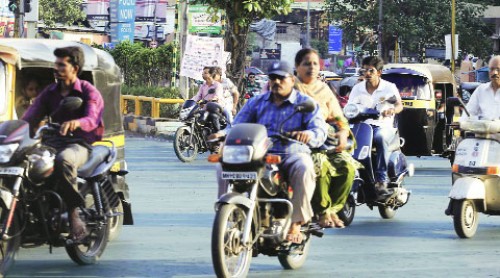 Two-wheeler riders will now have to own a helmet for the person riding with them as traffic police have made helmets compulsory for pillion riders as well.
This rule is part of a drive by the transport department and traffic police of Mumbai that started on Friday wherein they will implement rules on traffic violations stated in the Government Resolution of December 29 last year.
According to the new rules, pillion riders caught without a helmet will be sent to a two-hour seminar on traffic rules. Also, people caught without a seatbelt will face the same penance as well as a Rs 100 fine.
While speaking to a daily, Joint Commissioner (traffic) Milind Bharambe said, "We will enforce the new government resolution (GR) soon and these drives are being carried out to send a warning to violators before they face harsh punishment. We are extremely serious about ensuring that no one rides a two-wheeler without a helmet. We were waiting for the exams to get over, so now today (Friday) onwards, helmets are mandatory for pillion riders as well in Mumbai. Otherwise, they will face action."
Moreover, action will also be taken against those on-road without licences and against riders who whose vehicles make noise above the permitted level. Strict action will also be taken against those caught driving under the influence of alcohol.
The drive which started yesterday will see more than 30 teams of the traffic police stationed across the city, who will suspend driving licences on the spot for violations such as speeding, jumping signal, drink-driving and talking on a mobile phone while driving. If caught, the licence will be suspended for a three month period.