Shiv Sena mocks Ghatkopar BJP leader, photoshops his image on a cat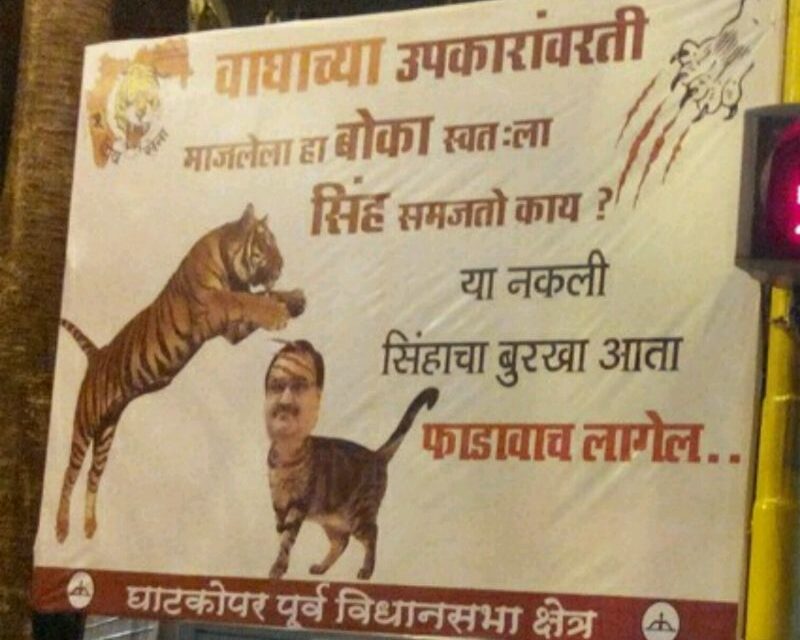 Ahead of 2017 BMC polls, the bitterness between Shiv Sena and its alliance partner Bharatiya Janata Party (BJP) has been fuelled by a poster war which erupted on Wednesday in Ghatkopar.
Earlier this month, while addressing a party conclave, BJP's Minister for Housing Prakash Mehta had stated that the tiger in Mumbai is finished and now only the lion will roar. His statement was clearly targeting the Saffron Party, who uses the 'tiger' insignia.
Without wasting any time, Shiv Sena confronted Mehta through a printed message outside his party office in Ghatkopar, which also happens to be his constituency. Sena put up a hoarding depicting BJP leader Prakash Mehta as a tomcat, instead of a lion.
The caption of the poster reads – 'Hya nakli sinhacha burkha ata fadavach lagel." (The cat thinks it is a lion. The artificial mask of this lion will have to be taken off). The hoarding also shows the tiger ready to pounce on the tomcat.
However, by Thursday, the hoardings depicting BJP leader in poor light were seized from eight locations and cops have arrested three individuals in connection with their installation.
---
This post was contributed by a 'Guest Author'. To contribute or share feedback, write to us at editor[@]localpress.co