Video: Major fire breaks out at GST Bhavan in Mazgaon, Byculla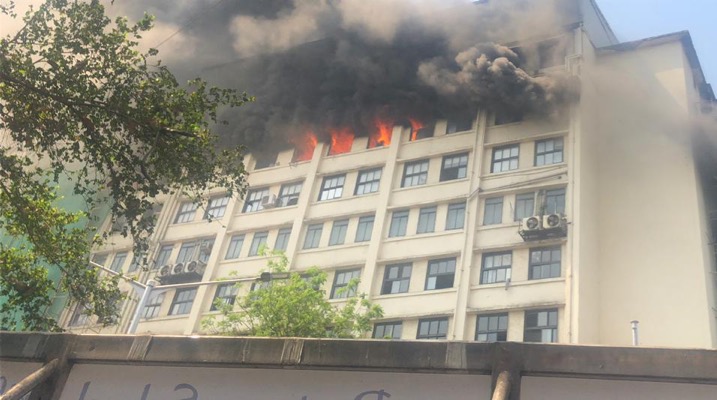 A massive fire broke out in a government building in Mumbai's Mazgaon area on Monday afternoon.
According to officials, the fire broke out on the 8th floor of GST Bhavan (former sales tax office), located on Nesbit Road at Maharana Pratap Chowk in Mazgaon, Byculla East.
The fire was reported at 12:32 pm and the first team of responders arrived on the spot shortly after. The fire was initially categorised as a Level-II blaze at around 12:42 pm.
However, due to the rate at which it was spreading, the blaze was later escalated to a Level-III call at 12:50 pm and subsequently to Level-IV at 1:14 pm.
The fire has almost gutted the entire 8th floor of the building and spread on the 9th floor.
At least 13 fire engines, nine jumbo water tankers and two quick response vehicles are currently on spot and more are on the way.
"Hose line is in operation from inside the building and two lines of TTL from outside the building. The building is smoke logged and fire fighting operation is in progress using Breathing Apparatus Set. The building is under repair," fire brigade chief P.S Rahangdale said.
The building has been evacuated. However, some people could be trapped on the upper floors. A preliminary search for trapped persons has been launched and a more thorough operation will commence once the fire is brought under control.
As of publishing this report, no casualties have been reported and fire fighting is still underway. The cause of the fire is not yet known.
Further details are awaited.
The incident comes barely four days after another similar blaze erupted at Rolta Company building, located inside Rolta Technology Park in Andheri MIDC, Marol.