Video: MNS workers thrash fruit vendor from UP in Ghatkopar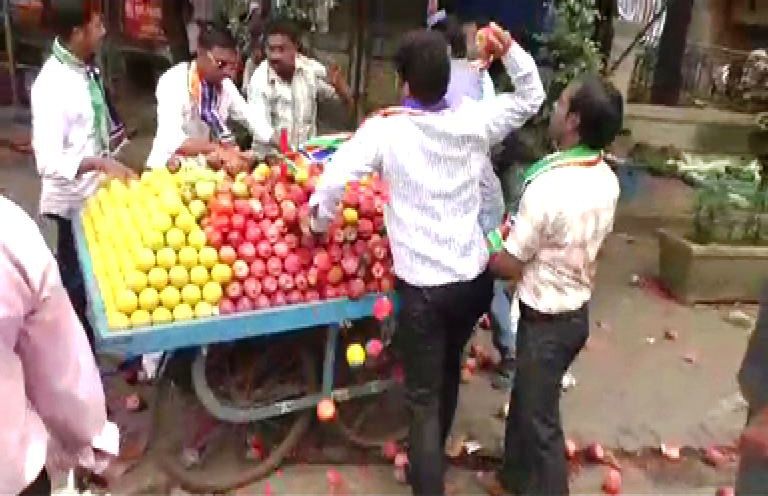 In a shocking act of hooliganism by Maharashtra Navnirman Sena (MNS) workers, a fruit vendor was publicly thrashed and his goods laid to waste at Ghatkopar in Mumbai on Wednesday.
According to preliminary information, the fruit vendor was allegedly attacked for not allowing farmers to sell their produce in the open market on Wednesday. Following which, the farmers approached the MNS leaders Vibhag Pramukh and Ganesh Bhagat for help.
The party leaders told the farmers to sell their products openly, before arriving at Amrut Nagar in Ghatkopar themselves and thrashing the vendor in broad daylight.
In the video of the incident, at least 7-8 party workers are seen abusing and ganging up to assault the vendor. Before leaving, they also overturned his cart which was filled to brim with fruits.
A police complaint was later filed against the MNS workers at Ghatkopar police station. They were arrested and released on bail yesterday itself.
When asked about the incident, MNS group leader Sandeep Deshpande asked that if Marathi's are not allowed to sell their things in Mumbai, then will the 'bhaiya's do so, using the colloquial term for those hailing from Uttar Pradesh. "Agar Mumbai mein Marathi log ko maal nahi bechne denge toh kya 'bhaiya' log ko bechne denge?" the MNS corporator told ANI.
"Mumbai is for everyone and if someone sells his item and someone coming from outside doesn't allow that person on to sell then it is our responsibility to save him. We complained in the police station, BMC no one is ready to take responsibility. Therefore, we had to come to save him," he said.
Meanwhile, BJP Mumbai President Ashish Shelar has condemned the attack on the vendor and said that action will be taken against anyone who takes the law in their own hands, irrespective of the cause.
Shelar further stated that instead of beating one North Indian vendor, MNS should try and do something for the farmers. He also said the party could work on a proposal for weekly markets for farmers, which he could try and implement.