Video: Ticketless BJP activists board AC local, forced to leave after altercation with commuters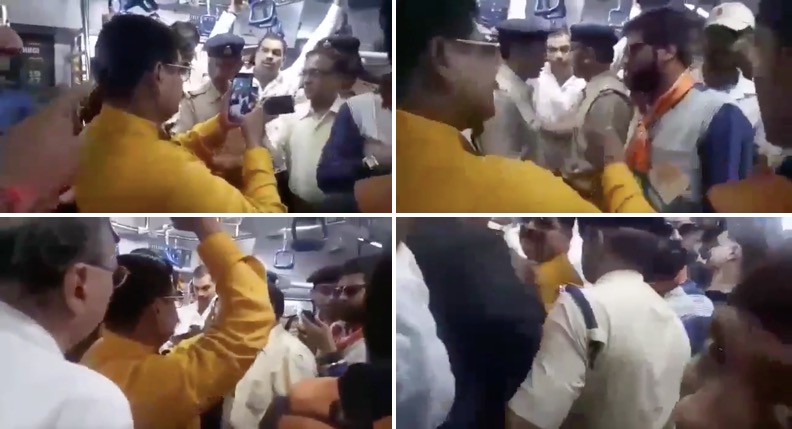 In a brazen disregard for rules, a number of BJP activists boarded an AC local last week allegedly without purchasing a ticket and got into an argument with commuters, only to be heckled and detained later.
The incident took place on the 10:33 am Churchgate-bound local on Friday, when the activists were travelling to BKC to attend the rally by BJP President Amit Shah on the occasion of the party's 38th Foundation Day.
A number of activists, carrying flags and banners, entered one of the coaches of the newly launched air-conditioned local. When commuters questioned them, they got into an argument in the presence of police officials.
While refusing to budge, one of the activists went to the extent of boasting that the AC train had been launched during the BJP rule and not during the Congress regime, in an apparent bid to justify travelling without a ticket.
"The activists were very rude and kept dropping names of big party leaders and insulting commuters. Though there were ticket checkers in the train, the activists, many of whom were travelling ticketless, refused to pay fine," a commuter told Mid-Day.
When the activists refused to back down, the commuters started ganging up on them and demanded that they be removed from the coach. One of them also recorded the entire incident on his phone.
In the video, the party workers can be heard alleging that some of the commuters disrespected the BJP and its contributions, with one of them claiming, "Aapne BJP ko gaali diya (You abused BJP)". He can also be seen recording a video of the passengers.
One of the commuters, on the other hand, can be heard saying "Modi, BJP ka naam kharab kar rahe hai". Another tries to clarify that no one abused the ruling party and that the activists were creating an issue for no reason.
Meanwhile, railway control room was notified about the situation and all activists were detained at Andheri station.
Later, commuters can be seen rejoicing and clapping as officials get the BJP workers to deboard the train.
The incident raises questions about the security arrangements at railway stations and railways' ability to enforce rules, especially considering the fact that the workers managed to board the more expensive AC local in the presence of officials.