Viral video of Rajasthan temple robbery being circulated as 'theft at Jain temple in Navi Mumbai'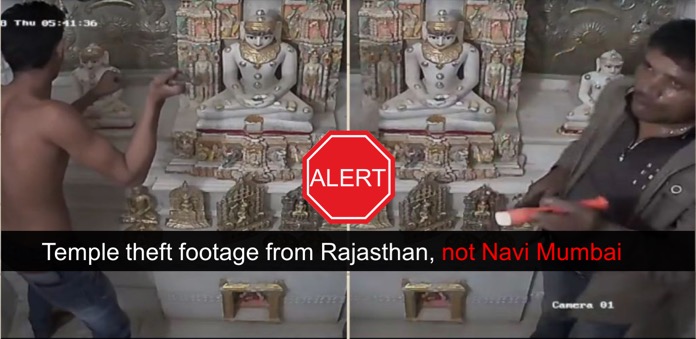 A CCTV footage of a temple robbery in Rajasthan has started making rounds of social media on Monday as a video of a 'theft at Jain temple in Navi Mumbai'.
In the video, two thieves can be seen in action as they try to forcefully remove gold and silver ornaments adorning the deities. The robbers proceed with the theft despite being in full view of the CCTV camera.
The theft took place at Shri Digambar Jain temple in Bhatana village of Sirohi District in Rajasthan early morning on October 25. The accused got away with Rs 5,000 cash, 50 grams of gold and 2 kg silver.
The robbery angered the local community and was reported to the police the same day by temple authorities.
Now, due to the viral nature of the video, some miscreants have started sharing it on WhatsApp and social media while incorrectly attributing it to a temple in Navi Mumbai.
The video has also been shared online by a prominent Mumbai-based newspaper.
"Two thieves had sneaked into the Jain temple in Sector-9, Vashi on October 18 past midnight and stole cash from three donation boxes apart three silver crowns, collectively weighing around 1kg, meant for adorning the deities. The thieves even stole a silver archway at the entrance of the sanctum sanctorum," reads one of the viral messages on social media.
"The stolen property is collectively worth Rs 65,000. The theft came to light around 6 am when the guards woke up and informed the temple's office bearers. Exclusive CCTV footage of the incident," it adds.
An official with Vashi police confirmed that the details matched with that of another theft case, which incidentally did take place in Navi Mumbai.
In that instance, two robbers entered Shri Swetamber Murtipujak Sangh Jain temple located near the bus depot at Sector 9, Vashi between midnight and 2 am on October 18 and robbed cash and silver mukuts (crowns) worth Rs 65,000.
The matter came to light following a complaint by Mulchand Gala and Vashi police subsequently registered a case against the unidentified robbers under IPC sections 457 and 380.
The CCTV footage, however, is not of the Vashi temple. "The video is not of the theft at the Jain temple in Navi Mumbai," Mr Gala told Local Press Co.
---
Also Read: Thane police solve Krishna temple robbery case in 8 hours, recover all stolen jewellery
---