Viral video shows Zomato delivery partner eating food meant for delivery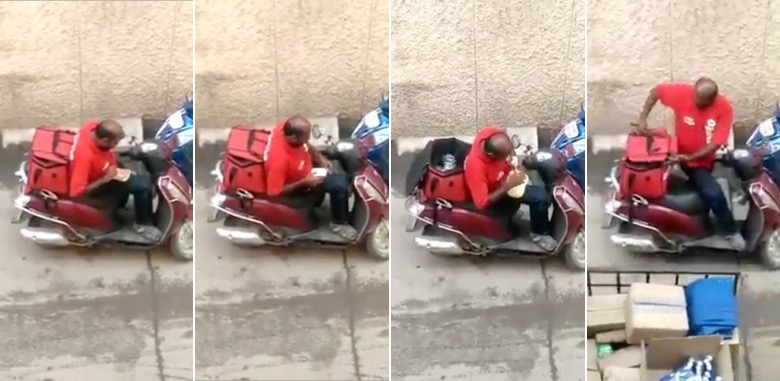 A video of a Zomato delivery partner consuming food meant for delivery is now going viral on social media. The delivery platform has acknowledged the incident and promised to take preventive steps going forward.
In the video, purportedly shot by a Madhurai-resident, a delivery executive can be seen opening a sealed box and consuming food from it. The delivery guy, seen seated on a bike and wearing a Zomato t-shirt, later re-packs the box and puts it back.
The video started circulating on social media on Monday and went viral within hours. Given the popularity of the platform, the video drew sharp criticism from netizens, many of whom took to social media to voice their displeasure.
"Look at this @ZomatoIN your delivery man how delivering food to customers. Disgusting. Everyone who fond of ordering online food must be aware of this," tweeted one.
"@Zomato How do you ensure delivery guys like this are not part of your team and food is tamper proof? There shud also b proof that food actually delivered from ordered restaurant only. Need convincing reasons to continue with your services now," said another.
The company soon took cognizance of the video and said it will investigate the case internally. It issued a statement on Tuesday morning acknowledging the executive's irresponsible behaviour and assuring remedial steps.
"We have found that the video was shot in Madurai; the person in the video is a delivery partner on our fleet. We have spoken to him at length – and while we understand that this was a human error in judgment, have taken him off the platform," Zomato said in a statement.
"Additionally we will educate our delivery fleet of over 1.5 lakh partners to highlight or escalate any such deviations, while also encouraging our users, the custodians of our platform, to highlight the smallest anomalies," the statement said.
Founded in 2008, Zomato has been one of the most successful startups to come out of India. It has 1.4 million restaurants listed across 24 countries and serves over 50 million users every month. The company ended FY18 with a revenue of Rs 466 crore.