Salman and I will definitely star in a film together: Shah Rukh Khan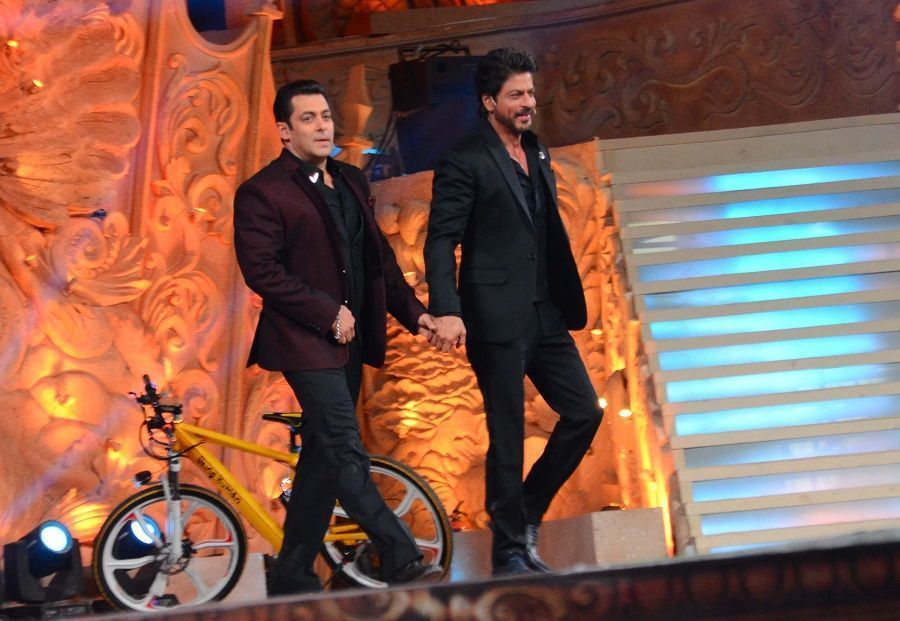 While hosting a segment on an award show recently, both Shah Rukh Khan and Salman Khan admitted that they are 'definitely open to working together again'.
The actors, both in their early fifties, have acted in films like 'Karan Arjun', 'Hum Tumhare Hai Sanam' and 'Kuch Kuch Hota Hai' in the past.
The superstar, however, have refrained from working together for the better part of a decade owing an alleged fallout, when the two were not on talking terms with each other.
When asked if there is a possibility of them coming back for a film, Shah Rukh told reporters, "Woh bhi ho jayega. We are here. Someone will bring a film, we will do something."
Salman added, "It will happen. If some good, knowledgeable writer comes up with something, we will definitely do it."
To which, the 'Dear Zindagi' actor said that they will need a director with a lot of patience.
The duo were speaking at the Star Screen Awards, where they co-hosted a segment.
When asked about the experience of hosting together, SRK said, "It's fun. This is the way we are normally also. It's nice to have extended it. We really had fun."
Salman added, "It was really good fun. The theme is friendship so who better than him and me to host it."
When asked if Aamir will also join them in hosting the awards next year, Shah Rukh quipped that the 'Dangal' actor doesn't attend awards.
Shah Rukh and Salman have had ups and downs in their friendship over the years but the latter said sometimes their fights were blown out of proportion by others.
"It happens with everyone, just what happened with us but so much of fuss was created around that. We had no contribution in that, it was (pointing towards reporters) and some loved ones too."