Around 400 Shiv Sena workers quit party over alliance with NCP-Congress, join BJP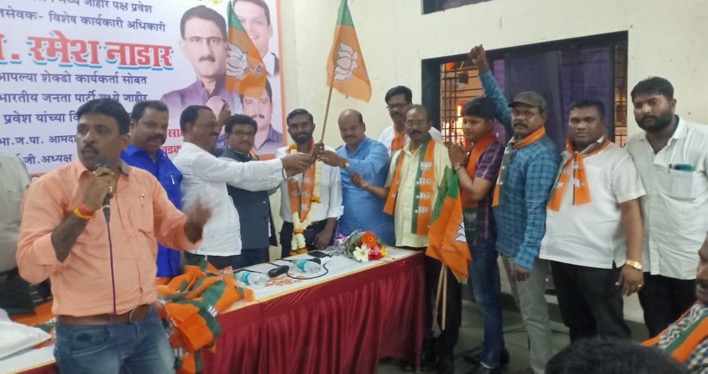 In a major setback to the Shiv Sena, around 400 of its workers quit the party and joined its former ally Bharatiya Janta Party (BJP) at an event in Dharavi on Wednesday.
According to reports, the Sena workers were allegedly upset over party President Uddhav Thackeray's decision to ally with its ideological opponents, Congress and Nationalist Congress Party (NCP), to form government in Maharashtra.
"I was working with Shiv Sena for 10 years. We were supporting the Hindutva ideology of Sena. I was given an office to serve people but as Sena has decided to form the government with NCP and Congress, it is not acceptable to us. Now, we all have decided to join BJP," Ramesh Nadar, who was leading the delegation of the party workers, was quoted as saying.
Mumbai: Around 400 Shiv Sena workers joined BJP at an event organised in Dharavi, yesterday. #Maharashtra pic.twitter.com/zGBAVH0zDr

— ANI (@ANI) December 5, 2019
The BJP and Shiv Sena had fought the assembly polls together and crossed the halfway mark required to form a government in the state. However, disagreement over the post of CM caused a wedge and brought their three-decade-old alliance to an end.
Sena later approached NCP chief Sharad Pawar and sought his help to form a non-BJP government in Maharashtra with the support of his party and ally Congress.
After a week of negotiations, the three parties came together under the banner of Maha Vikas Aghaadi and staked claim with the support of over 160 MLAs.
On November 28, Uddhav Thackeray was sworn in as the Chief Minister and six others from Shiv Sena, Congress and NCP took oath as ministers at a grand function at Shivaji Park.
---
Also Read: How Uddhav's ascension marks the end of Balasaheb's Sena: A Shiv Sainik's view
---