Goregaon flyover ready, but motorists can't use it till Shiv Sena decides who will inaugurate it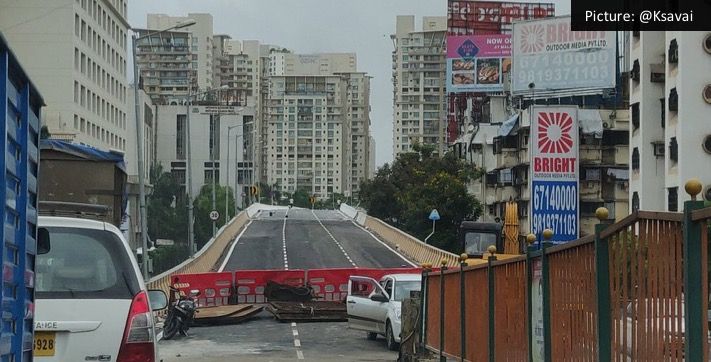 If building new infrastructure in Mumbai wasn't a problem already, the confusion over the inauguration of a crucial flyover in Goregaon has left thousands of motorists, who could use some much-needed relief, in a lurch.
Unlike most projects, where delays can be attributed to the lack of timely completion, the opening of the east-west flyover connecting MTNL junction to Western Express Highway in Goregaon is hanging in the balance over its inauguration.
---
Update: After backlash, mayor orders BMC to open Goregaon flyover on Friday without inauguration
---
The 12-metres wide and 500-metres long flyover – which goes over the S.V Road and ends near Goregaon-Mulund Link Road (GMLR), can provide an immediate relief to thousands of motorists who face a bottleneck while travelling to Link Road or S.V Road.
Moreover, once vehicles start using the flyover to travel between east and west, it will also help curb congestion on WEH, among the city's busiest roads and already rendered partially inaccessible by the metro construction.
The civic body had undertaken construction of Veer Savarkar flyover three years back to resolve the everpresent bottleneck at MTNL junction. The project, build at a cost of Rs 27 crore, was completed earlier this month.
Sanjay Darade, the head of the BMC's bridge department even inspected the flyover a few days back and okayed its opening following a successful trial run.
Officials also informed mayor Vishwanath Mahadeshwar about the same yesterday, but are yet to get a confirmation on when the flyover can finally be thrown open to the public.
Meanwhile, BJP corporator Sandeep Patel has reportedly alleged that the bridge's opening, which could have been done on August 15, was delayed as the civic body was awaiting a nod from senior Shiv Sena leaders.
It's safe to say that Sena, which rules the BMC, would nominate one of its senior leaders to cut the ribbon.
Another BJP corporator, Deepak Thakur, had also written to BMC chief Ajoy Mehta a few weeks back and urged him to not waste time on the inauguration, and instead allow motorists to use the flyover immediately after it was ready.
While a tentative date of August 18 has been set, there is no saying if it will be adhered to. Motorists, meanwhile, will have to keep facing long and unnecessary delays till the politics over who will inaugurate the bridge continues.