Kamala Mills Compound fire claims 14 lives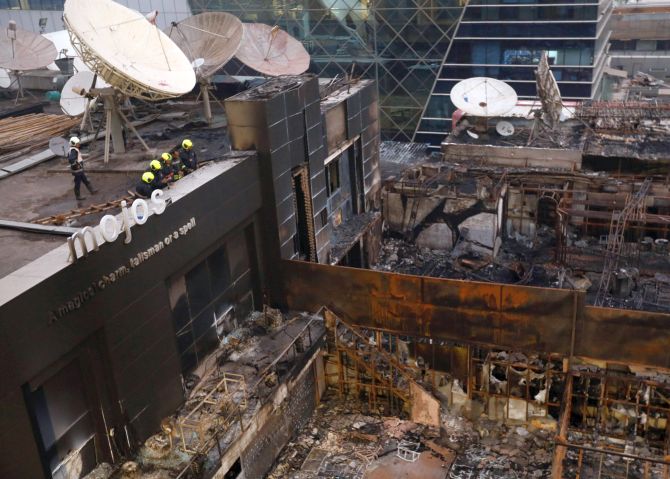 A fire that started at a rooftop pub in Lower Parel hosting a birthday party during the wee hours of Friday spread rapidly through the building, killing 14 people, most of them women.
The fire, which also injured 21 people, started after 12.30 am in the '1 Above' pub on the terrace, and spread to Mojo pub on the third floor one level below, said an official of the Mumbai civic body, Brihanmumbai Municipal Corporation.
Most of the victims, who included 11 women, died of asphyxiation, said Avinash Supe, dean of the KEM hospital where the injured and dead were brought.
Some reports said among those dead is the woman who was celebrating her birthday but this could not be independently confirmed.
The two gutted pubs are located in the Trade House Building in Kamala Mills compound in Lower Parel area, a popular night spot as well as commercial hub housing several offices including national television channels.
"I was in the night shift. We heard people screaming at the pub. Initially, we thought it is due to the party which was underway there," said Sanjay Jadhav, a programme producer of a news channel.
"When I came out of my office, I saw that a fire has broken out at the roof top pub. The main entrance of our office was blocked due to the flames," he said.
The massive blaze engulfed the entire building in about 30 minutes and took several hours to be put out. The cause of the fire is not known.
Dr Sulbha KG Arora, a Mumbai doctor, told NDTV news channel, she was at the 1 Above restaurant.
"There was no time for anyone to reach out because the fire spread so rapidly. The staff members of the restaurant were trying to help the customers as much as possible," she told NDTV on the phone.
"There was a stampede and someone pushed me. People were running over me even as the ceiling above me was collapsing in flames," she said separately in a tweet. "Still don't know how I got out alive."
Teams of fire brigade and police rushed to the spot and 35 injured people were pulled out from inside the pub and taken to hospital, a police official said.
Police have booked Hratesh Sanghvi, Jigar Sanghvi and Abhijeet Manka of C Grade Hospitality, which manages the pub, along with others, under various charges including cuplable homicide not amounting to murder.
They are also charged IPC sections 337 (causing hurt by act endangering life or personal safety of others) and 338 (causing grievous hurt by act endangering life or personal safety of others).
Two of those booked have been detained.
Several media outlets, including TV news channels Times Now, ET Now and TV9 Marathi, have offices in the complex.
There have been allegations that civic authorities have turned a blind eye to construction irregularities and violation of fire safety norms in the compound.
Prime Minister Narendra Modi and President Ram Nath Kovind expressed anguish over the tragedy.
"Anguished by the fire in Mumbai. My thoughts are with the bereaved families in this hour of grief. I pray that those injured recover quickly," the Prime Minister's Office tweeted.
Maharashtra Chief Minister Devendra Fadnavis also expressed grief, and said he has directed the BMC commissioner to conduct an inquiry.
BJP MP Kirit Somaiya said he had asked Fadnavis and the BMC commissioner to order a special fire audit of all such pubs and hooka parlours in Mumbai.
"Several such establishments at the Mills compound are illegal, part of which was regularised lately. The place where the blaze took place was illegal," he claimed.
With PTI inputs