Maharashtra plastic ban comes into effect: Everything you need to know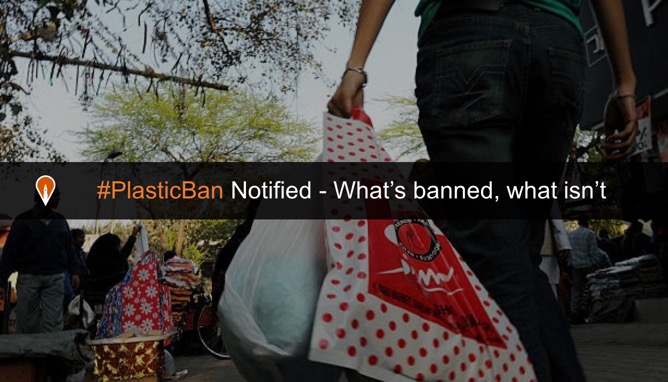 The Maharashtra government on Friday notified its ambitious ban on plastic bags, water bottles and other disposable plastic items in the state.
The call for a stricter ban on plastic was approved by the Maharashtra cabinet last week in a bid to address the serious challenges faced by the state's civic bodies when it came to tacking solid waste.
---
Update: Plastic Ban Maharashtra – All developments from ban till date
---
Further, the use of the material is also proven to have caused environmental problems, damaged marine life, affected freshwater biodiversity, clogged drains, and led to water logging.
Here's everything you need to know about the plastic ban implemented by the Maharastra Government.
How the plastic ban came into effect
The ban came into effect on Friday, March 23, 2017, with the issuance of the Maharashtra Plastic and Thermocol Products (Manufacture, Usage, Sale, Transport, Handling and Storage) Notification, 2018.
The notification cites increasing concerns over "usage and disposal of plastic are diverse and include accumulation of waste in landfills, water bodies and in natural habitats, the leaching of chemicals from plastic products and potential for plastics to transfer chemical to wildlife and humans" as the cause of the ban.
What has been banned
The ban covers the manufacture, usage, transport, distribution, wholesale and retail sale and storage and import of the following products:
Plastic bags
Disposable plastic items like spoons, forks, cups, glasses, containers
Disposable thermocol items like plates, glasses, bowls, containers
Non-woven polypropylene bags
Plastic pouches for storing liquid
Plastic wrap used for packaging or storing products
Plastic packaging for food items
Plastic and thermocol decorations
The ban is applicable for street food vendors, vegetable sellers, grocery shops, cinema halls, restaurants, places of worship, wholesalers, retailers, bus stands, railway stations and other public places.
To ensure the availability of non-plastic carrying bags, the Maharashtra government has budgeted Rs 5 crore to provide free cloth bags to citizens.
What has been exempted
The following items have been excluded from the ban:
Plastic bags used in packaging of medicines
Compostable plastic bags
Plastic used for plant nurseries, horticulture, agriculture
Plastic used for handling of solid waste (at homes, for example)
Manufacture of plastic and plastic bags in SEZs or export-centric units
Food grade virgin plastic bag not less than 50 microns in thickness
Plastic covers or wraps for material at the manufacturing stage
The government, however, has made it mandatory for manufacturers to prominently print on such plastic items that they are to be used exclusively for these purposes.
Handling of plastic water bottles and milk bags
The cabinet allowed the use of plastic water bottles and milk bags, albeit with the creation of a collect-back system of plastic waste.
All PET bottle manufacturers, producers, sellers and traders under the 'extended producers and sellers/traders responsibility' will have to develop a 'buyback depository mechanism' with a predefined buyback price printed specifically on each bottle.
As a result, consumers will have to pay Rs 1 and Rs 2 extra above the MRP for buying PET bottles of 500 ml and 1 litre respectively. Plastic bottles with a capacity of less than half a litre have been banned completely.
As for milk bags, consumers will have to shell out at least an additional 50 paise, a cost that will have to be mandatorily printed on the bags.
After consumption, people can simply take the used bottles and milk bags to sellers, who will have to buy them at the predefined buyback price.
Meanwhile, PET bottle manufacturers, milk dairies, traders, and retailers have been asked to form a collection and recycling system within three months from the date of notification.
The notification further states that milk pouches will have to be more than 50 microns thick and diaries must make attempts to provide milk in glass bottles.
Penalty for violations
For individuals, the state government will impose fines ranging from Rs 5,000 for the first offence to Rs 25,000 for the third offence and a three-month jail term in certain cases. Manufacturers, on the other hand, stand to lose their license.
Notably, however, none of the penalties will be imposed on an immediate basis due to opposition from some quarters.
Citizens, manufacturers, and sellers have been given 30 day time to hand over the banned plastic items to the municipal body. The penalties will only be imposed after the grace period is over.
Local administrations have been asked to set up collection points to accept the banned items from consumers. Traders and manufacturers, on the other hand, will have to look for recycling facilities to dispose of their goods.
The notification also mentions that the state government is working on a plan to levy a refundable 'recycle/reuse' cess on manufacturers. If a manufacturer recycles everything they have produced, the cess will be refunded.
Who will implement the ban
Civic officials, along with officials from the District Collectorate, Zilla Parishad, Maharashtra Pollution Control Board (MPCB), Maharashtra Tourism Development Corporation, Health, Education, Police officials, Traffic Police, District Supply Officer, State Tax officials, Range Forest Officers have been authorised to implement the regulations.
Individuals and groups including welfare organisations, industrial associations and members of all local bodies who can disclose information regarding violations, and assist in imposing fines, confiscating material and registering offences will also be registered.
Citizen's concerns
In the wake of the ban, citizens and activists have raised some doubts over its implementation. They are:
Ready availability of eco-friendly alternatives of banned items
Lack of clarity on how the fines will actually be collected.
No mechanism for individuals to report violations.
Absence of a fine collection system wherein individuals can be penalised and given a receipt on the spot.
Possible rise in corruption and extortion cases if the implementation is on the lines of cleanliness marshals.
Opposition from plastic manufacturers
While most people have welcomed the move, plastic manufacturers in Maharashtra have urged the government to withdraw the blanket ban to prevent the closure of around 50,000 units operating in the state.
The closure is likely to affect direct employment of nearly two lakh people and indirect employment of over 4.5 lakh, including traders and recyclers.
Many producers of plastics have even emphasised the need to control the littering through consumer awareness instead of a blanket ban on its production and sale. They further sought the implementation of the 50 microns thickness limit instead.
The representatives of the All India Plastics Manufacturers' Association, the Thermoformers and Allied Industries Association and the Maharashtra Plastics Manufacturers Association have taken up the issue with relevant lawmakers.